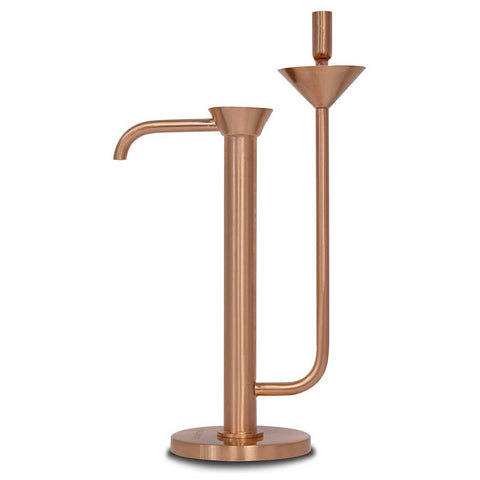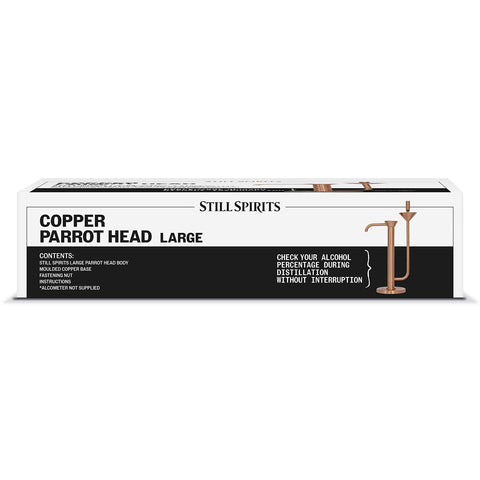 Still Spirits
Large Parrot Head
The Large Copper Parrot Head is designed for use with the T500 Reflux Still, T500 Alembic Pot Still and other large stills.
This proofing parrot will let you track the ABV of your distillate without having to take samples along the way. This allows you to closely monitor the quality of the distillate and determine where to take cuts or stop your distillation.
Key Features
• High-quality copper construction
• Check your alcohol percentage during distillation without interruption
• Compatible with the T500 Reflux Still, T500 Alembic Pot Still and other large stills
• Moulded base allows the Parrot Head to sit on a bench top or table
• Simple set up (either collect the distillate as it drips from the condenser into the Parrot Head collection cone or connect the Parrot Head collection pipe to the distillate out tube on the condenser)
• No need to stop distillation or move spirit to a separate collection vessel
Specifications
• Total Assembled Height: 328mm
• Fits alcometers less than 23mm in diameter*

NOTE: This unit will read no greater than 252mm from the base of your alcometer

*Alcometer not included
Included in Box
• Still Spirits Large Parrot Head Body
• Moulded Copper Base
• Fastening Nut
• Instructions
Instructions
Still Spirits is a wholesaler of high-quality distilling equipment and ingredients to make your own homemade spirits. To purchase the products, please contact our highly knowledgeable network of stockists at homebrew and specialist stores worldwide. 
Support
Looking for answers? We've got them!
Learn more
Browse through our comprehensive Still Spirits Help Centre covering everything about our products and the distilling processes including FAQs, instructions, videos and more.