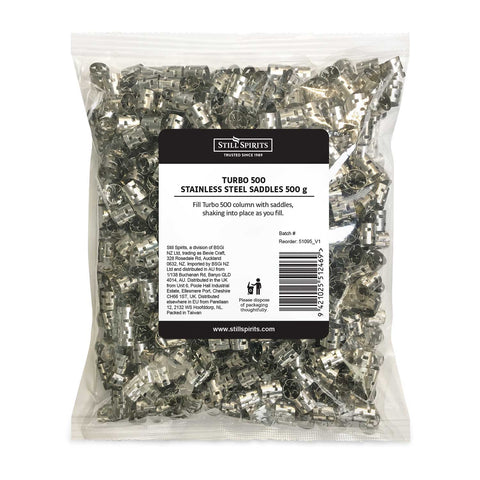 Still Spirits
Stainless Steel Saddles
Stainless steel saddles help with the refluxing action to remove impurities.
Stainless steel saddles are also not porous so they last longer than ceramic saddles or packing.
Key Features
• Made from stainless steel
• Optimal surface area for reflux distilling
• Compatible with the T500 Reflux Condenser column
Included in Box
• 1 x 500 g bag of Stainless Steel Saddles
Still Spirits is a wholesaler of high-quality distilling equipment and ingredients to make your own homemade spirits. To purchase the products, please contact our highly knowledgeable network of stockists at homebrew and specialist stores worldwide. 
Support
Looking for answers? We've got them!
Learn more
Browse through our comprehensive Still Spirits Help Centre covering everything about our products and the distilling processes including FAQs, instructions, videos and more.