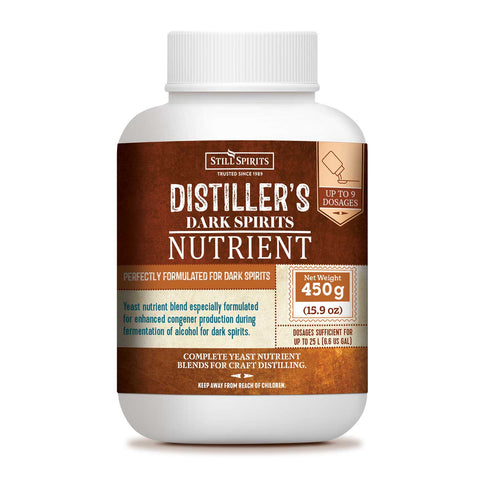 Distiller's
Nutrient Dark Spirits
A yeast nutrient blend especially formulated for enhanced congener production during fermentation of alcohol for dark spirits.
Dosages are sufficient for up to 25 L (6.6 US Gal) fermentation.
Sugar Wash
• ABV: Up to 15%
• Dosage: 75 g (2.6 oz) / 70 ml (2.5 US fl oz) / 4 Bottle Caps
Fruit Mash
• ABV: Up to 15%
• Dosage: 50 g (1.8 oz) / 45 ml (1.5 US fl oz) / 3 Bottle Caps
Molasses Wash
• ABV: Up to 12%
• Dosage: 50 g (1.8 oz) / 45 ml (1.5 US fl oz) / 3 Bottle Caps
Contents
1 x 450 g (15.9 oz) Distiller's Nutrient Dark Spirits
Mixing Instructions
Shake well before use. Add with yeast and stir well to dissolve, leave to ferment according to instructions specified for selected yeast strain.
Ingredients / Allergens
Yeast nutrients, antifoaming agent, vitamins, trace minerals.

Safety: Keep away from reach of children.

WARNING: Harmful if swallowed. Harmful in contact with skin. Harmful if inhaled. Causes serious eye irritation. Harmful to aquatic life.

PREVENTION: Wear eye protection. Wear protective gloves/ protective clothing. Avoid breathing dust. Use in a well-ventilated area. Wash hands thoroughly after handling. Do not eat, drink or smoke when using this product. Avoid release to the environment.

FIRST AID: IF INHALED: Remove person to fresh air and keep comfortable for breathing.
IF SWALLOWED: Call a Poison centre or doctor if you feel unwell. Rinse mouth.
IF ON SKIN: Wash with plenty of water. If skin irritation occurs: Get medical advice/attention. Take off contaminated clothing and wash it before use.
IF IN EYES: Rinse cautiously with water for several minutes. Remove contact lenses, if present and easy to do. Continue rinsing. If eye irritation persists: Get medical advice/ attention. "
Still Spirits is a wholesaler of high-quality distilling equipment and ingredients to make your own homemade spirits. To purchase the products, please contact our highly knowledgeable network of stockists at homebrew and specialist stores worldwide. 
Support
Looking for answers? We've got them!
Learn more
Browse through our comprehensive Still Spirits Help Centre covering everything about our products and the distilling processes including FAQs, instructions, videos and more.