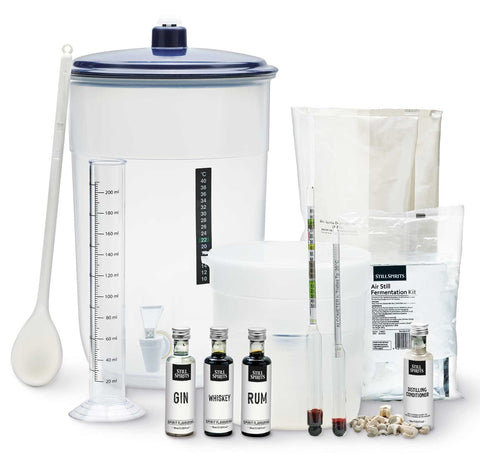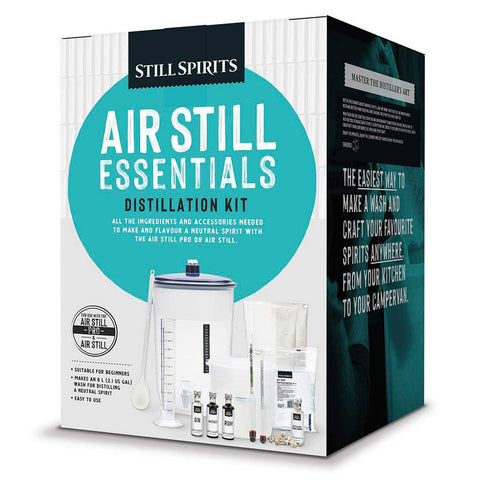 Still Spirits
Air Still Essentials Distillation Kit
The Air Still Essentials Distillation Kit enables you to prepare and ferment your wash, collect distillate, dilute, filter, and flavour your neutral spirit with various Top Shelf Flavourings.
Note: The Air Still Essentials Distillation Kit does not include the Air Still or the Air Still Pro.
Key Features
• Easy to use
• Produces a sugar wash ready to distill in 7-10 days
• Ideal for creating neutral spirits for flavouring
Specifications
• Wash: Produces 8 L sugar wash for distillation
• Filter Type: Container Filter
• Capacity: 1 L 40% ABV spirit (1 US qt)
Included in Box
Equipment

• 12 L (3.2 US Gal) Fermenter with Stick-On Thermometer
• Carbon Filter & Collection System
• Mixing Spoon
• Ceramic Boil Enhancers
• Hydrometer
• Alcometer and Test Tube

Wash Ingredients & Consumables

• 1 x sachet Pure Turbo Yeast Nutrient (78g)
• 1 x sachet Turbo Clear (65g)
• 1 x sachet Turbo Carbon (54g)
• 1 x sachet Pure Turbo Yeast (10g)
• 2 x 1.2 kg Dextrose
• 50 ml (1.7 US fl oz) Distilling Conditioner
• 3 x 50 ml (1.7 US fl oz) Top Shelf Flavourings
Instructions
Still Spirits is a wholesaler of high-quality distilling equipment and ingredients to make your own homemade spirits. To purchase the products, please contact our highly knowledgeable network of stockists at homebrew and specialist stores worldwide. 
Support
Looking for answers? We've got them!
Learn more
Browse through our comprehensive Still Spirits Help Centre covering everything about our products and the distilling processes including FAQs, instructions, videos and more.