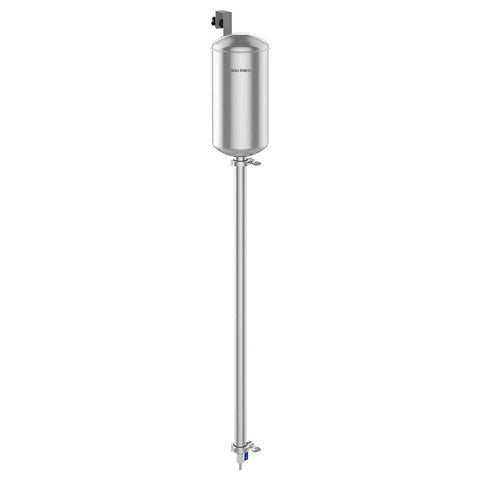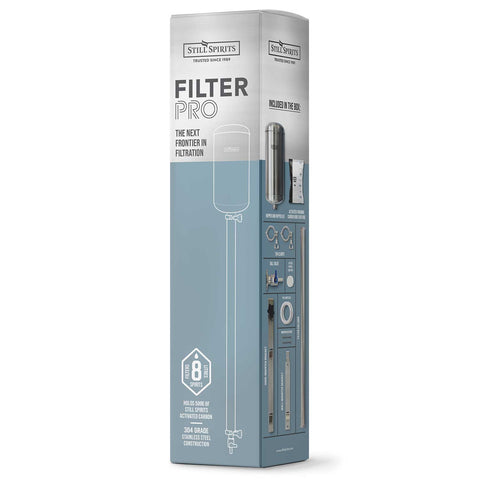 Still Spirits
Filter Pro
The Filter Pro is a sleek, vertical gravity-fed filter used to polish spirit, removing unwanted impurities from the distillate, a process known as polishing.
The filter is made from 304 grade stainless-steel and is capable of processing 8 L (8 US qt) of 50% ABV spirit at a time using 500g of activated carbon, delivering exceptionally clean and pure results.
Featuring easy to use adjustable flow control allowing full control over the speed at which the spirit is polished. Simple assembly with a removable door and wall mount for maximum flexibility in setup and handling!
Key Features
• Made from 304 grade stainless steel
• Fits up to 500 g of Activated Finishing Carbon
• Long stainless-steel shaft ensures maximum contact time with the carbon
• Filter where you want with the removable door & wall mount
• Easy to connect tri-clamps & adjustable flow-control
Specifications
• Filter Type: Gravity Fed Filter
• Capacity: 8 L 50% ABV spirit (2.1 US GAL)
• Dimensions: H 95 cm x W 22.5 cm x D 23 cm
• Weight: 5.15 kg
Included in Box
• Hopper
• Hopper Lid
• Ball Valve
• Filter Column
• 2 x Tri-Clamps
• Tri-Clamp Seals
• Mounting Fasteners
• Door-Mounted Bracket
• Wall-Mounted Bracket
• Finishing Carbon 500 g
• Large Filter Paper 5 Pack
Instructions
Still Spirits is a wholesaler of high-quality distilling equipment and ingredients to make your own homemade spirits. To purchase the products, please contact our highly knowledgeable network of stockists at homebrew and specialist stores worldwide. 
Support
Looking for answers? We've got them!
Learn more
Browse through our comprehensive Still Spirits Help Centre covering everything about our products and the distilling processes including FAQs, instructions, videos and more.