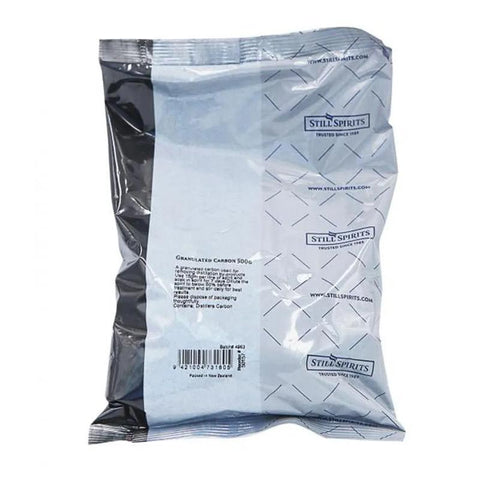 Still Spirits
Granulated Carbon
A granulated carbon to aid in the removal of congeners, colour, some off flavours, and some off aromas in distilled spirit.
During fermentation: use 15 grams per litre of wash and leave in wash for 7 days.
Post-distillation: use 25g-75g per litre of spirit. For best results dilute the spirit to below 50% before using this carbon in a filter for polishing. Allow to slowly drip from your filter or to sit in spirit for 7 days, stirring briefly, daily. Rinse before use.
Key Features
• Can be used for neutral or flavourful spirits
• Larger pore size which increases flow rate*

*This leads to a lower cleaning power, unless you are able to control the flow rate of spirit through the carbon

Specifications
Included in Box
• 1 x 500 g Activated Carbon
Still Spirits is a wholesaler of high-quality distilling equipment and ingredients to make your own homemade spirits. To purchase the products, please contact our highly knowledgeable network of stockists at homebrew and specialist stores worldwide. 
Support
Looking for answers? We've got them!
Learn more
Browse through our comprehensive Still Spirits Help Centre covering everything about our products and the distilling processes including FAQs, instructions, videos and more.