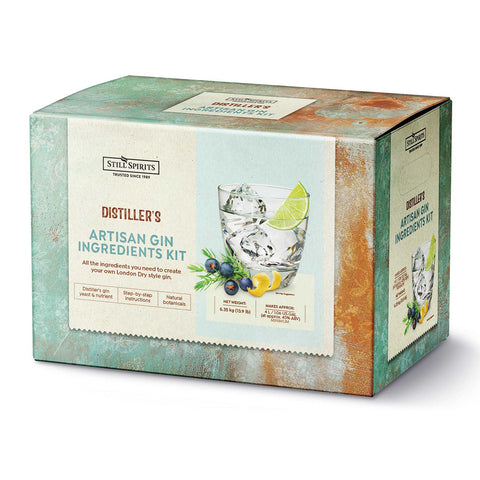 Distiller's
Artisan Gin Ingredients Kit
Discover the art and science of craft distilling as we guide you through the journey of making your own small-batch London Dry style gin.
Inside you will find authentic ingredients such as dextrose, gin yeast & yeast nutrient, finings and a botanical blend of juniper, coriander, liquorice root, as well as dried lemon and orange peel.
When used with a simple distillery set-up, you can craft distil a bright, crisp and refreshing London Dry style gin with notes of pine and citrus, and a warm pepperiness on the palate.
You will be guided through the process of crafting your gin, similarly to how a craft distillery would, from start to finish with our simple step-by-step instructions.
Makes Approximately: 4 L / 1.06 US GAL (at approx. 40% ABV) minimum.
Contents
6 x 1 kg (2.2 lb) Dextrose
1 x 130 g (4.5 oz) Turbo Clear
1 x 20 g (0.7 oz) Distiller's Yeast Gin
1 x 150 g Distiller's Nutrient Light Spirits
1 x 50 g (1.8 oz) London Dry Gin Botanicals

Gin yeast is packaged in a protective atmosphere.
Mixing Instructions
See instructions enclosed in the kit or visit our Help Centre to view.
Ingredients / Allergens
Distiller's Yeast Gin: Dried yeast (yeast, emulsifier [E491]).

Distiller's Nutrient Light Spirits: Yeast nutrients, antifoaming agent, vitamins, trace minerals.

London Dry Gin Botanicals: Juniper berries (minimum 65%), coriander seeds, dried granulated citrus peel (lemon, orange), liquorice root.

Dextrose: Dextrose monohydrate (corn).

Turbo clear: Water, silica solution, acid (malic acid), chitosan (crustaceans), preservative (sodium metabisulphite).

Allergens included: Sulphites and crustaceans.
Instructions
Still Spirits is a wholesaler of high-quality distilling equipment and ingredients to make your own homemade spirits. To purchase the products, please contact our highly knowledgeable network of stockists at homebrew and specialist stores worldwide. 
Support
Looking for answers? We've got them!
Learn more
Browse through our comprehensive Still Spirits Help Centre covering everything about our products and the distilling processes including FAQs, instructions, videos and more.