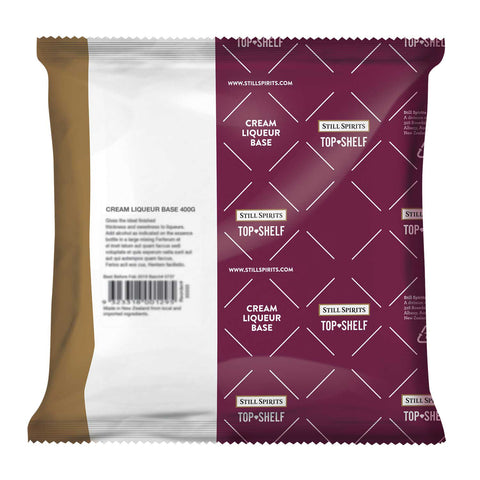 Top Shelf Base
Cream Liqueur Base 400g
This base gives the ideal finished thickness and sweetness to cream liqueurs. Combine this with neutral spirit or vodka and your favourite cream liqueur flavouring for a taste experience inspired by a top shelf spirit.
Contents
This pack contains 400 g (14 oz). Packed in New Zealand.
Mixing Instructions
Add 250 ml (8.4 US fl oz) warm water to large mixing jug. Add contents very slowly while stirring thoroughly with a whisk. Add neutral spirit as indicated on flavour bottle & top up to 1.125 L (38 US fl oz) with water.

Ingredients / Allergens
Beverage whitener (vegetable fat, glucose syrup solids, milk protein, emulsifiers (E477, E471, E481), stabiliser (E340), salt), sugar, cream flavour (wheat, milk), acidity regulator (E331).

Allergens included: Wheat and milk.
Still Spirits is a wholesaler of high-quality distilling equipment and ingredients to make your own homemade spirits. To purchase the products, please contact our highly knowledgeable network of stockists at homebrew and specialist stores worldwide. 
Support
Looking for answers? We've got them!
Learn more
Browse through our comprehensive Still Spirits Help Centre covering everything about our products and the distilling processes including FAQs, instructions, videos and more.