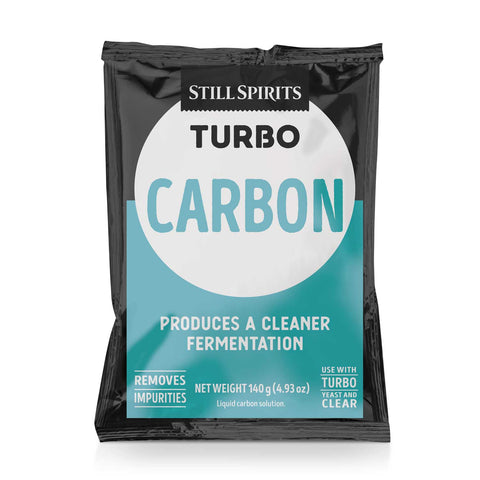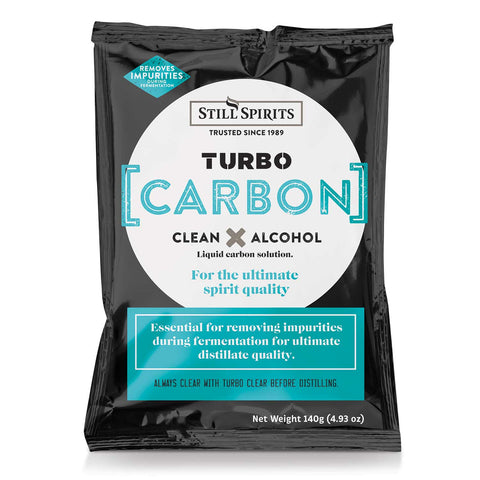 Turbo
Carbon
Turbo Carbon is designed to work with our range of Turbo Yeasts and is added to a wash straight after pitching yeast. It's internal pore structure removes impurities that are not removed by post-distillation filtration, aiding in producing a cleaner, smoother tasting neutral spirit.
IMPORTANT: Always use Turbo Clear after fermenting with Turbo Carbon to remove solids from the wash prior to distillation. If Turbo Clear is not used, impurities trapped by the carbon will be released during the boil.
Contents
1 x 140 g (4.93 oz) Turbo Carbon
Mixing Instructions
Before opening, massage the sachet to ensure it is lump free.
Add immediately after adding your choice of Turbo Yeast.
Stir well to disperse.
Ingredients / Allergens
Water, activated carbon, thickener (E415), preservative (sodium metabisulphite).

Allergens included: Sulphites.
Still Spirits is a wholesaler of high-quality distilling equipment and ingredients to make your own homemade spirits. To purchase the products, please contact our highly knowledgeable network of stockists at homebrew and specialist stores worldwide. 
Support
Looking for answers? We've got them!
Learn more
Browse through our comprehensive Still Spirits Help Centre covering everything about our products and the distilling processes including FAQs, instructions, videos and more.