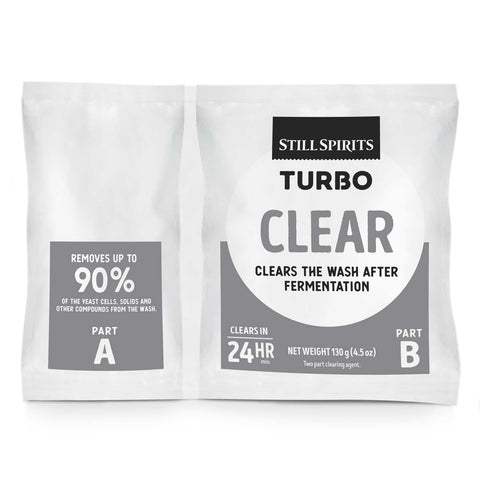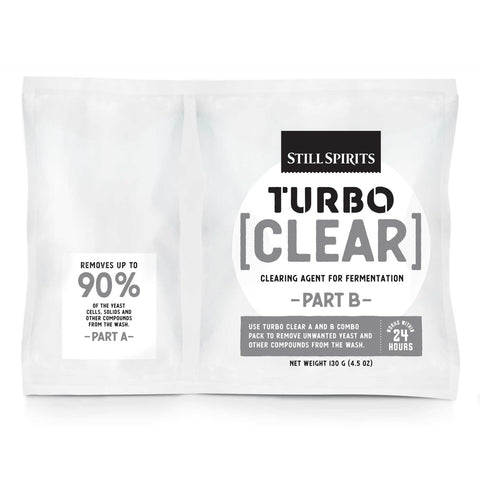 Turbo
Clear
Transform your alcohol quality. Turbo Clear is added directly into your wash and within 24 hours separates over 90% of the yeast cells, solids and other compounds from the wash so that you can siphon out your clear wash, leaving the sediment behind.
If Turbo Clear is not used and yeast cells are added to your boiler, the cells will break open during the boiling process releasing off-flavours, smells, impurities absorbed by fermentation, clays and carbons back into the distillate. For the very best alcohol quality use Turbo clear in every wash and rack carefully before distillation.
Contents
1 x 130 g (4.5 oz) Turbo Clear
Mixing Instructions
Part A: Once fermentation is complete, stir the wash vigorously to remove the gas. Once degassed, add the contents of Part A and stir well, then leave to stand for 1 hour.

Part B: After 1 hour, slowly pour Part B evenly over the top of the wash while stirring gently to help spread it evenly. Do not stir vigorously as this will disrupt the clearing process. Leave to clear for at least 24 hours. During this time Part B will drop down from the top, taking unwanted yeast and other compounds with it to the bottom.
Ingredients / Allergens
Water, silica solution, acid (malic acid), chitosan (crustaceans), preservative (sodium metabisulphite).

Allergens included: Sulphites and crustaceans.
Still Spirits is a wholesaler of high-quality distilling equipment and ingredients to make your own homemade spirits. To purchase the products, please contact our highly knowledgeable network of stockists at homebrew and specialist stores worldwide. 
Support
Looking for answers? We've got them!
Learn more
Browse through our comprehensive Still Spirits Help Centre covering everything about our products and the distilling processes including FAQs, instructions, videos and more.