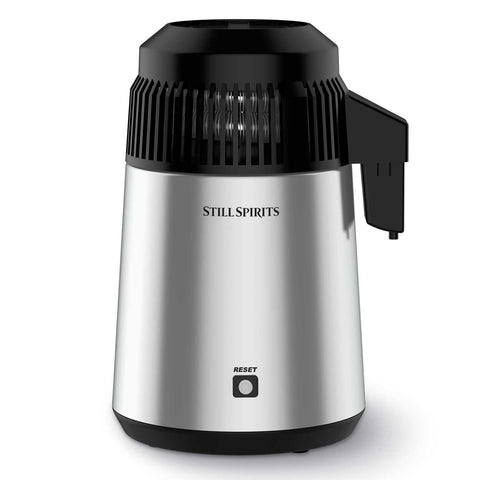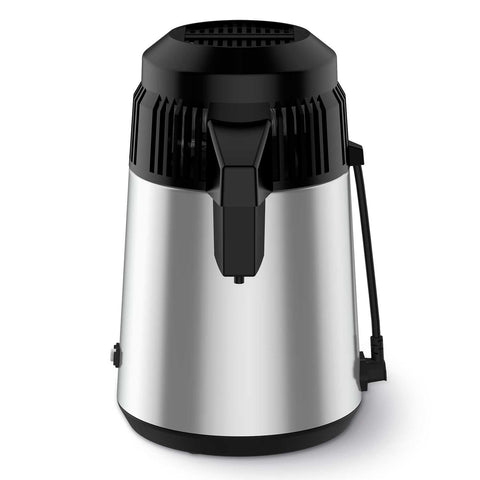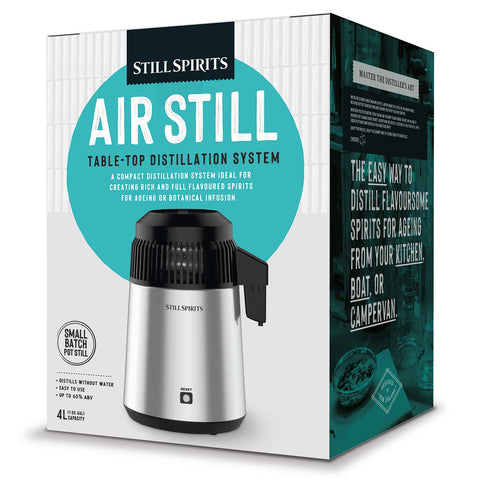 Still Spirits
Air Still
The Air Still is compact and easy to use wherever and whenever you want. It fits nicely on your kitchen countertop and stores easily in cabinetry or pantries. The Air Still is equipped with an efficient, built-in fan that blows air over the coils to cool and condense the vapour into liquid. No separate water source is required during distillation. Also suitable for distilled water and hydrosols.
A botanical basket, purchased separately, can be used for crafting gin or other botanical spirits.
Key Features
• Easy to use
• Compact for easy use and storage
• Pot still
• Small batch distillation
• Suitable for distilled water, hydrosols and flavoursome spirits
• No additional water is required for distillation
• Compatible botanical basket (purchased separately)
Specifications
• Capacity: 4 L (1 US Gal)
• Yield: approx. 1 L (1.06 US qt) of 40% ABV alcohol per 4 L (1.06 US Gal) wash
• Pot Still that distills up to 60% ABV (120 US proof) before diluting to 40% ABV (80 US proof)
• Dimensions: 40.5cm (h) x 28cm (w) x 29cm(d)
• Weight: 4.34 kg
• Power: 220v (110v US Only)
• Warranty: 3 years
Included in Box
• Starter Guide
• Air Still Head Unit
• Air Still Boiler and power cable
Instructions
Still Spirits is a wholesaler of high-quality distilling equipment and ingredients to make your own homemade spirits. To purchase the products, please contact our highly knowledgeable network of stockists at homebrew and specialist stores worldwide. 
Support
Looking for answers? We've got them!
Learn more
Browse through our comprehensive Still Spirits Help Centre covering everything about our products and the distilling processes including FAQs, instructions, videos and more.