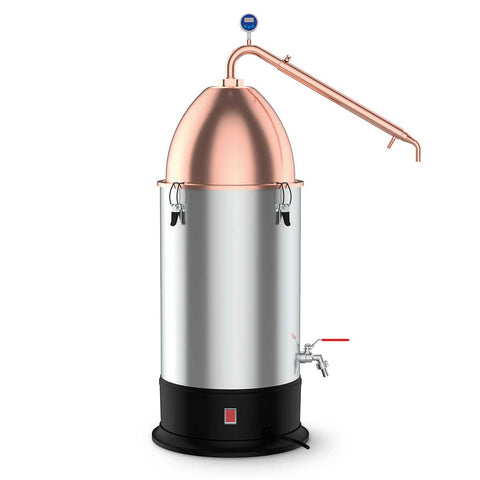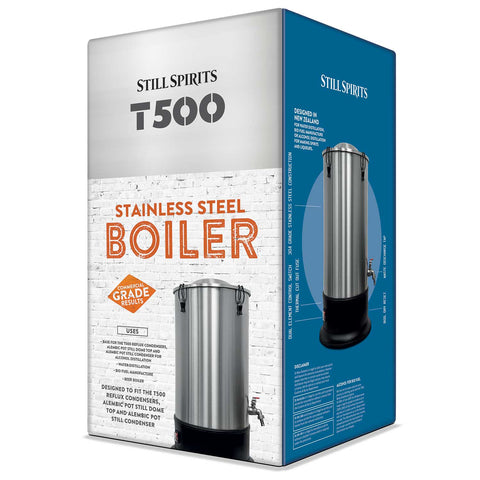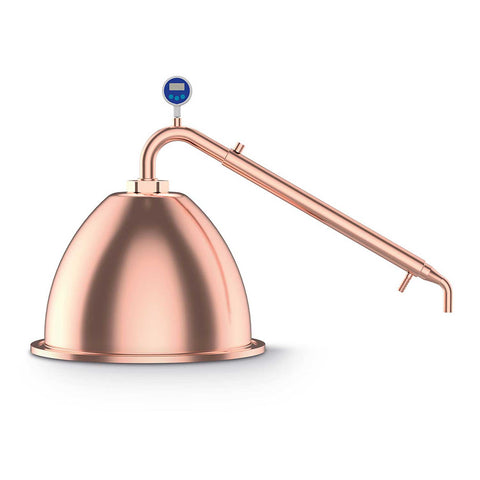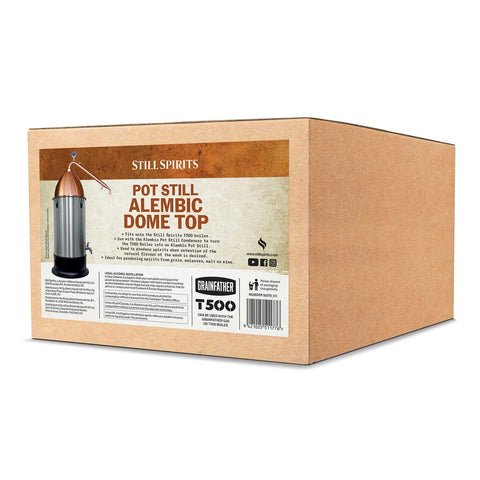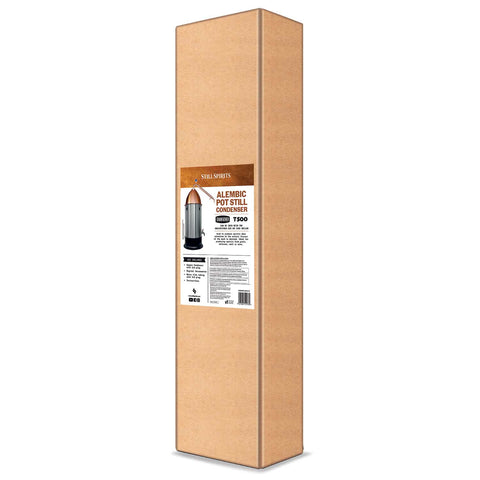 Still Spirits
T500 Alembic Pot Still
The T500 Alembic Pot Still is comprised of the T500 Copper Dome Top and T500 Alembic Condenser with the T500 Boiler.
Unlike reflux stills that are engineered to strip flavour to produce clean, neutral spirits, the large copper surface area of this pot still enables it to carry over the distinct flavours and aromas of a wash into the final product, creating a full-flavoured spirit. This makes it ideal for creating flavoursome spirits like whiskey, bourbon, rum, and gin. This set up is also suitable for distilling water and hydrosols.
This T500 Boiler features two power switches. When both switches are on, the element will be supplied full power of 2200W for 220V units, or 1600W for 120V units. You can lower this to 1100W by switching one of the two switches off (220V unit) or by switching off the 500W switch (120V unit). This can be extremely useful when distilling dark spirits such as Whiskey, Rum and Bourbon as you are able to now control the amount of power and have a gentler boil for your final spirit runs.
The T500 Copper Dome and T500 Alembic Condenser are compatible with the Grainfather G30, making it ideal for crafting all-grain spirits. The T500 Alembic Condenser is compatible with the Grainfather G40 & G70 Distilling Lid and Distilling Lid Attachment Kits making it suitable for crafting larger batches of all-grain spirits.
NOTE: The T500 Boiler, T500 Copper Dome Top and T500 Alembic Condenser are sold separately.
Key Features
• For intermediate-advanced distilling
• Dome and Condenser made from Copper
• Designed in New Zealand
• 25 L boiler capacity
• Boil dry reset
• Thermal cut out fuse
• Waste discharge tap
Specifications
T500 Copper Dome & Alembic Condenser

• Dimensions: H 50 cm x W 18 cm x D 7 cm
• Weight: 1.18 kg
• Warranty: 3 years

T500 Boiler

• Dimensions: H 64 cm x W 36 cm x D 37 cm
• Weight: 5.42 kg
• Power: 2200W (1600W for US/CA Units)
• Warranty: 3 years

• Yield: 3.5-7 L (3.7-7.4 US qt) of 40% ABV alcohol per 25 L (6.6 US Gal) wash
• Purity: Distills at 70% ABV (140 US proof) before diluting to 40% ABV (80 US proof)
Included in Box
T500 Copper Dome & Alembic Condenser:
• Copper Dome
• Alembic Condenser
• Water inlet tube
• Water outlet tube
• Digital thermometer
• Instructions booklet

T500 Boiler:
• Boiler
Instructions
Still Spirits is a wholesaler of high-quality distilling equipment and ingredients to make your own homemade spirits. To purchase the products, please contact our highly knowledgeable network of stockists at homebrew and specialist stores worldwide. 
Support
Looking for answers? We've got them!
Learn more
Browse through our comprehensive Still Spirits Help Centre covering everything about our products and the distilling processes including FAQs, instructions, videos and more.