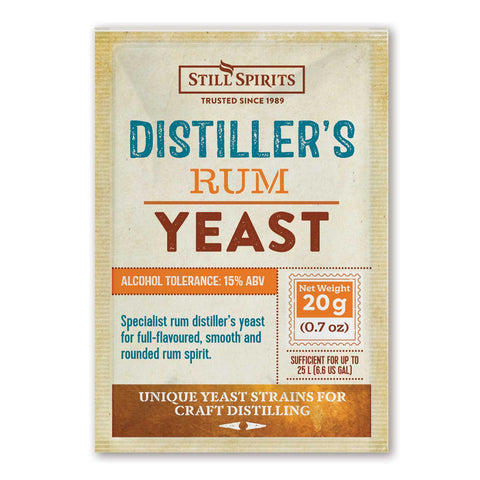 Distiller's
Yeast Rum
An active dried yeast that optimises the fermentation's congener profile and brings forward the smooth and full-flavoured molasses characteristics expected in an authentic rum. Great for well-rounded white or darker aged rums.
Sufficient for up to 25 L (6.6 US Gal) fermentation.
• Alcohol tolerance: 15% ABV
• Attenuation: 70-100% (low-high)
• Flocculation: medium
Contents
1 x 20 g (0.7 oz) Distiller's Yeast Rum
Mixing Instructions
Add directly to fermentation vessel and leave to ferment at 20-34°C (68-93°F) ambient air temperature for optimum performance and quality.
Ingredients / Allergens
Dried yeast (yeast, emulsifier [E491]).
Still Spirits is a wholesaler of high-quality distilling equipment and ingredients to make your own homemade spirits. To purchase the products, please contact our highly knowledgeable network of stockists at homebrew and specialist stores worldwide. 
Support
Looking for answers? We've got them!
Learn more
Browse through our comprehensive Still Spirits Help Centre covering everything about our products and the distilling processes including FAQs, instructions, videos and more.